Bulat Kitchen
Bulat Chef Knife
Sale price Price $120.00 USD Regular price
8.2 inch blade
Japanese VG-10 steel core
67 layers of steel form a "Damascus" finish
Olive or Walnut, natural finish
Excellent edge retention
58 Rockwell C hardness
Computer controlled heat treatment
17 degree symmetrical edge
Ambidextrous grip
Grooved bolster design
Thoughtful design
After years of experimentation, and dozens of iterations, we have designed a blade that turns meal prep into a pleasure.
Layered Steel
66 layers of softer stainless steel are wrapped around the high carbon core of Japanese VG-10 steel - revealing a "damascus" pattern of the interplay between layers.
A better grip
With the balance point just forward of the grooved bolster, the blade is comfortable to hold in a pinch grip. A finger guard and well contoured handle also provide extra confidence for those tougher jobs.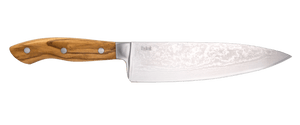 Bulat Chef Knife
Sale price Price $120.00 USD Regular price