A kitchen workhorse
One blade designed to tackle any job in the kitchen. We engineered our Bulat Chef Knife to target the sweet spot between performance and edge retention. Ideal weight and balance combine to create cutting bliss.
Learn more
Free Shipping
Free shipping within the United States and Canada on any order over $100.
Explore Our Chef Knife
Natural Wood
Our naturally finished hardwood grips feel warm and grippy, even when wet. Available in light and dark options (Olive and Walnut).
High Carbon Stainless Steel
Japanese VG-10 steel, hardened to 58 HRC, then sharpened to a 17 degree edge - all wrapped in 66 layers, giving it a beautiful "damascus" finish.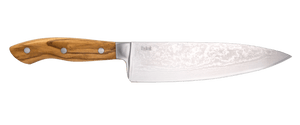 Bulat Chef Knife
Sale price Price $120.00 USD Regular price